Glow-in-the-Dark

Bowling

University Lanes offers Glow-in-the-Dark bowling every Friday, Saturday and Sunday. We dim the lights, crank up the music and add a spectacular light show!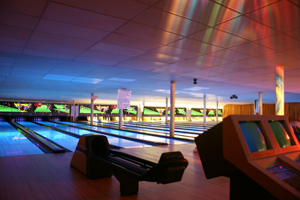 Glow-in-the-Dark Times
Friday from 9:30pm to 11:30pm
Saturday from 3:00pm to 6:30pm and from 9:00pm to 12:00am
Sunday from 2:00pm to 5:30pm
Glow-in-the-Dark days and times are subject to change without notice.
During the afternoon, it's not nearly as dark or as loud, so you can bring the whole family out. You can even host your birthday party during a Glow-in-the-Dark time!
For more information about Glow-in-the-Dark bowling, or to reserve a lane, call us.